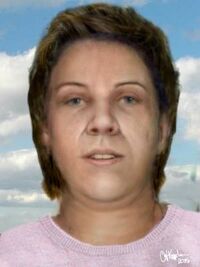 https://www.namus.gov/UnidentifiedPersons/Case#/5066
A female was found face down in a shallow creek. It appeared she had been beaten and that someone threw her over the bridge into the water. The clothing on the female is rare and pricey, usually found only on the coast and in Europe. Near the body was a pillowcase, knapsack, and beige hat. An autopsy suggested the woman had recently given birth.

Scorpio




Posts

: 1529


Join date

: 2018-11-29



http://www.doenetwork.org/cases/184ufks.html
Date of Discovery: January 25, 1986
Location of Discovery: Salina, Saline County, Kansas
Estimated Date of Death: 1-2 days prior
State of Remains: Recognizable face
Cause of Death: Homicide by forced drowning. The victim was also severely beaten.
Physical Description
Estimated Age: 20-35 years old
Race: White
Gender: Female
Height: 5'05"
Weight: 125 lbs.
Hair Color: Brown with blond highlights, short in length.
Eye Color: Blue or gray.
Distinguishing Marks/Features: Light complexion. Appendix scar and stretch marks on her abdomen indicated that she had carried a child and had given birth in the past. Also, her appendix had been removed, and she had scars on the left side of her jaw (there was a 1" scar on the jaw bone to the left of the chin and a 3/4" scar on the jaw bone below the left cheek); a 3/4" circular scar on the right knee. She had false fingernails painted bright red.
Identifiers
Dentals: Available. Dental records indicated the victim had some recent orthodontic work completed that would be pertinent identifiable characteristics a recent extraction of a tooth, root canal therapy with a broken reamer found, and both upper first premolars extracted and orthodontics done to close the spaces.
Fingerprints: Available
DNA: Available
Clothing & Personal Items
Clothing: Beige Chantelle brassiere (size 32B, made in France with French and European markings), black Jockey For Her very abbreviated French cut bikini panties, knee high stockings and lavender Abraxas sweat pants with two pockets in the front with zippers that zipped up and down. It appears that neither the bra or the sweat pants were sold in Kansas.
Jewelry: Unknown
Additional Personal Items: A blue colored nylon bag with white drawstrings, and white pillow case, including other clothing items were located in the vicinity of the body, however, it has never been proved that these items belonged to the victim.
Circumstances of Discovery
On the afternoon of January 25, 1986, the victim was located in a creek, on the north side of a bridge in the westbound lane of I-70, approximately 14 miles west of the city of Salina, KS. It appears that the woman was beaten and tossed over the bridge into a shallow creek where she died as a result of drowning.
She did not appear to be a homeless person, and seemed to be very well groomed, had recent dental work, expensive clothes, fashioned false fingernails. The bra and sweats she was wearing were manufactured in France and were sold only on the East and West coasts in large cities such as New York and California, or from outside the USA.
Investigators nicknamed the victim "Miss Molly" and she was buried in an unmarked grave in Gypsum Hill Cemetery and remains unidentified. Her killer has not been caught.

Scorpio




Posts

: 1529


Join date

: 2018-11-29



https://www.kwch.com/content/news/Could-Miss-Molly-be-missing-woman-from-overseas-513420921.html
Could 'Miss Molly' be missing woman from overseas?
The possible Dutch connection to a decades-long case in Kansas is the latest development in the quest to answer a lingering question: "Who is 'Miss Molly.'"
Some believe the answer to that question could go hand-in-hand with another question from more than 7,000 miles away: "What happened to Anna Agnes Maria Neeft?
That question is one Cornelis Neeft and his six brothers have asked for more than 30 years. And it's a question to which Keely Denning says might have an answer. In Kansas, Denning has followed "Miss Molly's" case for more than a decade. Denning says she believes it's possible "Miss Molly" could be Cornelis Neeft's sister.
From his home in the Netherlands, Cornelis Neeft says his sister was last seen when escaping what another of her brothers describes as an abusive relationship. A Dutch television show investigated Anna Neeft's disappearance and was able to confirm she was in England where she gave birth to her second child. Not long after that, the trail goes cold.
Cornelis says he believes his sister died. "Because what she's done is so unlikely and is so in contradiction to the woman I know," he says of her disappearance.
Cornelis says he dos not believe "Miss Molly" is his sister.
Looking at the photo comparisons of his sister and the unidentified woman in Saline County, he says he doesn't see much of a resemblance, although that can be complicated with "Miss Molly's" face swollen.
Investigators exhumed "Miss Molly's" body on Monday and collected DNA samples to compare to a missing woman the Saline County Sheriff's Office says may be from the Netherlands. The sheriff's office did not identify the woman it's comparing with "Miss Molly."
Interpol, the International Criminal Police Organization, shows interest in a case in Kansas. The agency wants to know whether a missing woman from overseas could be the murder victim in a Saline County cold case.
Three decades, numerous leads, and still no answers in the case of an unidentified woman found dead more than 33 years ago in a Saline County creek along Interstate 70. The public only knows this woman as "Miss Molly," but she remains a "Jane Doe."
Among the questions the Saline County Sheriff's Office hopes to find answers to: Who was this woman? Where is she from? Who killed her?
A truck driver found the woman in January 1986. Investigators called her "Miss Molly" and buried her in the Gypsum Hill Cemetery. Now, more than three decades later, the sheriff's office is looking to her body and advancements in DNA technology to put the puzzle pieces of her story together.
"Of course, back then (in 1986), DNA wasn't a thing," Saline County Sheriff Roger Solan says. "We sought a court order to exhume her body, hoping the DNA evidence would help us in the process. That was granted."
That process started early this year when Interpol was looking into a missing person from either Belgium or The Netherlands. The agency contacted the FBI, which led them to Kansas and the "Miss Molly" case. Interpol is trying to figure out if its missing person could be "Miss Molly." In order to do that, the international police organization needs to compare DNA.
Saline County Sheriff's Lt. Mike Smith, lead investigator in the "Miss Molly" case, says it's worth the time and effort to see if Interpol's suspicion pans out.
"It seemed to be our best option right now at this point to even try," Smith says. "If it gets to the lab and they decide the samples are too degraded, we may have lost that opportunity, but obviously, they draw DNA samples from bones much older than these."
Investigators have looked at the Doe Network Database which lists missing people from around the world. A search for missing people from either Belgium or The Netherlands around the time "Miss Molly" was found brought up a woman named Anna Agnes Maria Neeft.
We don't know if this is the woman Interpol is investigating, but she disappeared about the same time as the "Miss Molly" case. Neeft's family last heard from her in 1984 when she was in Canada. This was two years before "Miss Molly" was found.
If Neeft is a match, the Saline County Sheriff's Office says this could help them find out not only who "Miss Molly" was, but also, who killed her. The sheriff's office says results from DNA tests and possibly confirming "Miss Molly's" true identity could take anywhere from six to eight months.

Scorpio




Posts

: 1529


Join date

: 2018-11-29



https://www.brusselstimes.com/all-news/belgium-all-news/62516/body-exhumed-in-the-us-could-be-missing-brussels-woman-miss-molly-anna-agnes-maria-neeft-dutch-brussels-pregnant-creek-kansas/
US exhumation of 'Miss Molly' could crack open case of missing Brussels woman
A recent exhumation in the United States could link together a cold-case murder with the mysterious disappearance of a woman who vanished from Brussels decades ago while pregnant with her second child.
In 1982, 28-year-old Anna Agnes Maria Neeft vanished from Brussels — where she had moved from her native Haarlem, in the Netherlands — presumably taking her four-year-old child with her.
Neeft's family said she fled to England to escape her violent husband. While they believed she had given birth to her second child there, they thought she was in Canada when they last heard from her in 1984, according to HLN.
Years later, the body of an unidentified woman was found floating in a creek in the U.S. state of Kansas in 1986. Authorities failed to establish the woman's identity and "Miss Molly," as she became known, was buried over thirty years ago.
The woman's body was exhumed on Monday in a renewed attempt by Kansas authorities to establish her identity through DNA testing after Interpol investigators reached out about a possible connection between the two unsolved cases.
An autopsy at the time of the body's discovery established that the woman, who had been "severely beaten," had died from drowning, that she was between 25 and 35 years old and that she had recently given birth, according to ABC news.
The tests, which could take up to eight months, could crack open the cold-case murder in the U.S. and finally establish whether "Miss Molly" and Anna Agnes Maria Neeft are actually the same person.
While a DNA match would break open both cases, questions would still remain regarding the fate of Neeft's children, whose locations remain a mystery.

Scorpio




Posts

: 1529


Join date

: 2018-11-29



Similar topics
---
Permissions in this forum:
You
cannot
reply to topics in this forum